22 August 2016
Chukotka District Exhibition Pavilion Guide Robot
Specifically for the Eastern Economic Forum 2016 Maugry, Ltd developed a multimedia exposition Polar Night to present Chukotka Autonomous District to forum visitors and tell about the region's symbol –the polar bear.
---
In Chukotka District pavilion, all guests were welcomed by polar bear Umka, a high-tech guide robot. It answered questions about the polar region and habitat of the Arctic carnivore.
Upon completion of the forum activities, Umka and other exhibits became a part of the media exposition Chukotka – Universe of the Polar Bear at the Museum Center Chukotka Heritage.
ABOUT CLIENT
The Museum Center Chukotka Heritage, located in Anadyr, the capital of Chukotka Autonomous District, is a primary scientific and educational institution in the region. The collection of the Museum Center is made up of more than 40,000 exhibits that tell about the history, nature and the peoples of the Chukotka District. The Museum Center attracts more than 12,000 visitors a year.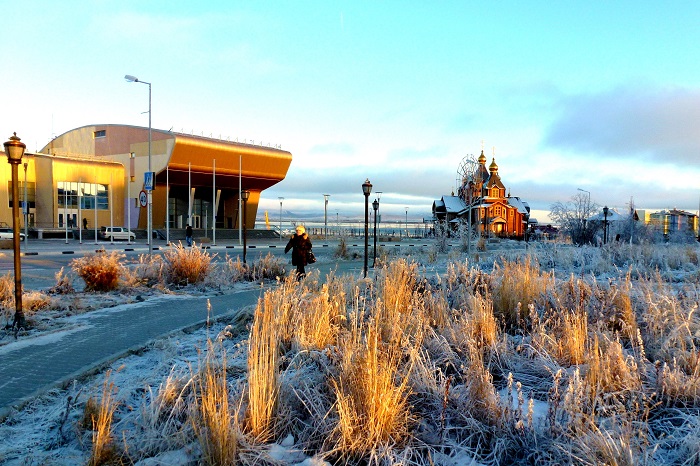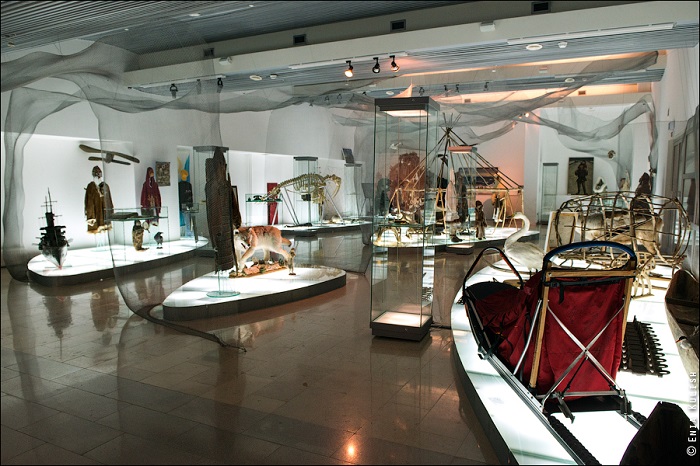 PROJECT MISSION

OLGA RASTORGUEVA
Director of the Museum Center
Chukotka Heritage
The polar bear is a favorite character among visitors of our center. Born in Chukotka, on the Wrangel Island, the polar bear makes a lifetime journey along the Arctic floe edge and unites nations and peoples on his way.

We expected that a new exposition prepared for the Eastern Economic Forum 2016 would be a logical extension of the ongoing exhibition devoted to the polar bear. In our new exposition we decided to leverage most advanced technologies in order to draw youth and children's audiences and to help preserve a rare carnivore for future generations.
GOAL
Our task was to create a polar bear cub robot that could chat with visitors and tell them about Chukotka and about life of polar bears.
SOLUTION
The guide robot Umka can operate eight hours on a single charge. Umka can recognize faces and voices, can turn its head following a person it talks to, can move its limbs, and has a sensor system to avoid collisions while moving. On chest, Umka has a touch panel that enables any user to control its storytelling feature and to include game elements into the tour.
As a basis for creating our Umka we took promoter robot Promobot that underwent significant modifications. We completely changed robot's linguistic base, we enriched its knowledge base with a plethora of facts about Chukotka and life of polar bears. We updated its software as well – we embedded a multimedia knowledge encyclopedia of polar bears.
A great deal of modifications was made to the robot's appearance. The robot's head was changed radically, its primary sense organs – a camera and a microphone – were hidden inside the bear cub's nose. Covered in artificial fur, the robot was styled to look like a bear cub sitting on an ice floe. To make Umka realistic, we also engaged taxidermy lab experts who, based on a real polar bear model, made a number of bear muzzle elements from artificial materials.
Our guide robot became a 'living' toy and absolutely everyone loved it. It was a kind and friendly bear cub who traveled through the exhibition, acquainted with visitors, chatted and answered various question about Chukotka, a place where that beautiful and strong animal lived.
Our bears were first presented in the Chukotka District pavilion at EEF 2016 where they became a true sensation for visitors and caught the attention of regional and national TV broadcasting channels.
Report of the TV channel "Russia 1: Perm"
Report of the First Channel. You can look at our project from 0:40 sec
---
Read more:
Animatronic Robots for Chukotka Heritage Museum Center
---
Do you like the project? Do you want to create a similar one?
>