1 May 2017
Discover Perm Region with our new mobile app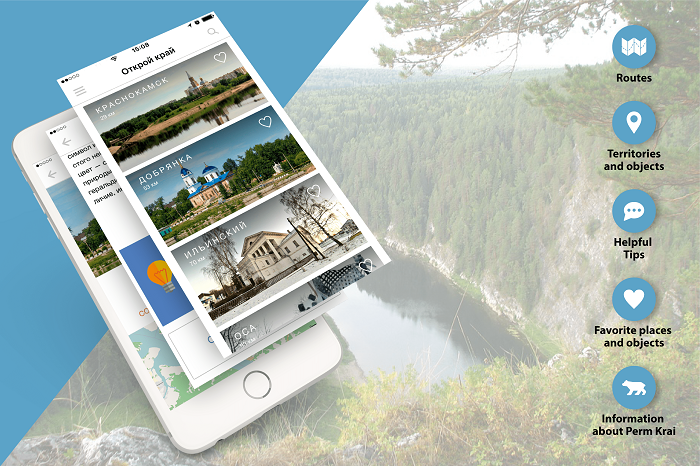 Perm Region is a beautiful and mysterious region. The region is rich in rivers, hills, caves, forests, natural monuments, monasteries and nunneries, museums, theatres, breathtaking history, delicious cuisine, prominent people, and outstanding events. What do you know about your region? What your friends from other regions know about the Perm Region? It is time to fill the gaps and learn something new with our mobile application Discover Perm Region.
---
ABOUT CLIENT
The project was implemented by Multimedia Solutions Lab in collaboration with a Perm design company
Ozon Group
, on order of the Ministry of Education and Science of Perm Region. Among project partners pursuing to promote educational tourism were municipal authorities and an oil and gas giant LUKOIL PERM. These reputed project stakeholders are indicative of the value, scope, and relevance of the project.
PROJECT MISSION
Information about Perm Region's attractions is currently dispersed across a wide range of sources.
The purpose of the project was to gather all relevant data about the Perm Region in one place and present it in a handy way. The end goal was to provide a tool to help travelers not only plan a trip but travel with ease on their own.
SOLUTION
An educational travel guide for mobile devices that gives key information on attractions and destinations plus helpful tips and addresses seemed best suited for the purpose. The work on the project Discover Perm Region started in summer 2015.

ARTHUR LAUT
Executive Director
Ozon Group
In May 2015, as a part of the Genio Loci festival activities we compiled a map. Then any visitor could leave a post-it note with information about any corner of the Perm Region. After being verified, the information was included into our interactive map. Later, the need emerged to make it available on a mobile device.
We turned our idea into reality and created a great product. It took us about five months to develop our application Discover Perm Region. The project implementation involved gathering and verifying data about the region. And the verification process became a key challenge for us. Eventually, intense collaboration between two companies led to creation of an unparalleled educational application that helps travelers exploring the Perm Region study the region.
RESULT
With an intuitive and attractive interface, the Discover Perm Region application can be used alongside travel guides across one of the most beautiful and mysterious regions of Russia or used as a stand-alone educational app that helps study the region.
In reality, the application became a guide across key municipalities in the Perm Region that contains travel tips. Prepared based on feedback from real travelers, these tips are the main value added of the application.
Presently, the application covers ten member-districts, including Krasnokamsk, Dobryanka, Ilinsky, Chusovoy, Osa, Chastye, Uinskoe, Elovo, Usolye, and Krasnovishersk. The application is already available to download on
iOS
devices. In future, it will be made available for Android smartphones.
---
Do you like the app? Do you want to create a similar one?